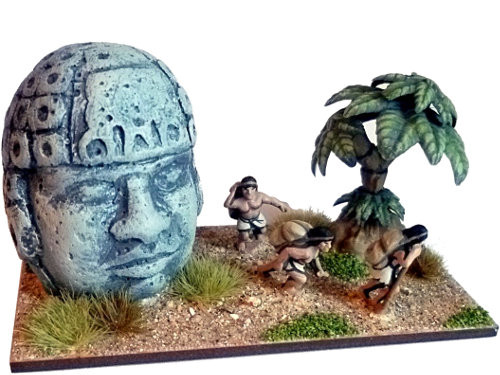 Statistics 2021-09-20
The statistics section contains the results of all Art de la Guerre games played during a tournament or an official game. It allows to consult players' results and armies' results. Each player has an ELO ranking and a championship ranking (refer to the document about tournament organisation).
You can consult the statistics by selecting an event (tournament or game), an army or a player. By clicking on the links, you will then get the details of the games for a tournament, for an army or for a player.
International championship : 2010 - 2011
The championship ranking takes into account the 3 best results in tournaments running from September 1st to August 31st of each year. The results of the current season are therefore temporary.
Player N°
Firstname
Lastname
Club
Player's country
Points
NULL1
NULL2
177
Eudes
LEFEVRE
Aigles Séquanes
FRA
358
0
0
1
2010-09-19 > Lugdunum 2010 Médiévale : 127
2010-11-20 > Augisey 2010 : 120
2011-05-09 > LdT - Nancy 2011 : 111
358 pts
134
Daniel
BALTZINGER
LdT
FRA
354
0
0
2
2010-09-19 > Lugdunum 2010 Antique : 127
2011-04-03 > Petites Guerres 2011 Ages Sombres : 122
2010-11-20 > Augisey 2010 : 105
354 pts
226
Christophe
SCIANGULA
AMM
FRA
350
0
0
3
2010-11-20 > Augisey 2010 : 138
2011-05-09 > LdT - Nancy 2011 : 111
2010-09-19 > Lugdunum 2010 Médiévale : 101
350 pts
135
Philippe
DOCREMONT
Aigles Séquanes
FRA
310
0
0
4
2011-05-29 > Chaumont 2011 : 137
2011-05-09 > LdT - Nancy 2011 : 93
2010-09-19 > Lugdunum 2010 Antique : 80
310 pts
212
Thierry
COULOM
LdT
FRA
305
0
0
5
2010-10-03 > Colombier 2010 : 113
2010-09-19 > Lugdunum 2010 Antique : 101
2010-11-20 > Augisey 2010 : 91
305 pts
100
Hervé
CAILLE
Achille
FRA
295
0
0
6
2010-10-03 > Colombier 2010 : 134
2011-05-09 > LdT - Nancy 2011 : 84
2011-04-03 > Petites Guerres 2011 Ages Sombres : 77
295 pts
196
Boris
ELOY
IPO
FRA
265
0
0
7
2011-05-29 > Chaumont 2011 : 111
2010-12-12 > Ballainvilliers 2010 : 99
2011-05-09 > LdT - Nancy 2011 : 55
265 pts
171
Olivier
FLAMENT
F&S
FRA
244
0
0
8
2010-12-12 > Ballainvilliers 2010 : 125
2011-04-03 > Petites Guerres 2011 Antique : 119
244 pts
183
Philippe
DUTHIL
CCJH
FRA
240
0
0
9
2011-04-03 > Petites Guerres 2011 Ages Sombres : 97
2010-11-20 > Augisey 2010 : 79
2011-05-09 > LdT - Nancy 2011 : 64
240 pts
140
Etienne
MISSON
Chtis stratèges
BEL
233
0
0
10
2011-06-05 > Strasbourg 2011 : 81
2011-04-03 > Petites Guerres 2011 Antique : 80
2011-05-29 > Chaumont 2011 : 72
233 pts
188
Alain
DEHAINE
VdV
FRA
199
0
0
11
2011-04-03 > Petites Guerres 2011 Antique : 136
2010-12-12 > Ballainvilliers 2010 : 63
199 pts
263
Cédric
ROUDIL
Achille
FRA
193
0
0
12
2011-05-09 > LdT - Nancy 2011 : 132
2011-04-03 > Petites Guerres 2011 Ages Sombres : 61
193 pts
102
Yves
BLANC
CDTF
FRA
150
0
0
13
2010-11-20 > Augisey 2010 : 69
2011-04-03 > Petites Guerres 2011 Antique : 41
2010-09-19 > Lugdunum 2010 Médiévale : 40
150 pts
105
François
CHAMBON
Augisey
FRA
138
0
0
14
2010-09-19 > Lugdunum 2010 Médiévale : 64
2010-11-20 > Augisey 2010 : 40
2010-10-03 > Colombier 2010 : 34
138 pts
206
Michel
TAUPIAC
H&L
FRA
123
0
0
15
2011-03-14 > 2ème trophée Henri IV 2011 : 123
123 pts
236
Laurent
MEZIANI
STRAT&JEUX DU LAURAGAIS
FRA
122
0
0
16
2011-05-09 > LdT - Nancy 2011 : 78
2011-04-03 > Petites Guerres 2011 Antique : 28
2010-09-19 > Lugdunum 2010 Antique : 16
122 pts
141
Jean
MATAGNE
Ordonnance
BEL
104
0
0
17
2011-04-03 > Petites Guerres 2011 Antique : 104
104 pts
161
Stéphane
THION
STRAT&JEUX DU LAURAGAIS
FRA
103
0
0
18
2011-03-14 > 2ème trophée Henri IV 2011 : 103
103 pts
108
Jean-louis
HERAUT
CTF
FRA
102
0
0
19
2010-11-20 > Augisey 2010 : 46
2010-10-03 > Colombier 2010 : 40
2011-05-09 > LdT - Nancy 2011 : 16
102 pts
160
Roland
HARTZ
Front des Vosges
FRA
102
0
0
20
2010-12-12 > Ballainvilliers 2010 : 39
2010-11-20 > Augisey 2010 : 35
2011-05-09 > LdT - Nancy 2011 : 28
102 pts
125
Thierry
MOLIERE
IPO
FRA
93
0
0
21
2011-04-03 > Petites Guerres 2011 Antique : 62
2010-12-12 > Ballainvilliers 2010 : 31
93 pts
144
Rudy
DEVREUX
Ordonnance
BEL
92
0
0
22
2011-04-03 > Petites Guerres 2011 Antique : 92
92 pts
137
Pépé
DIAZ
LdT
FRA
90
0
0
23
2010-10-03 > Colombier 2010 : 67
2011-05-09 > LdT - Nancy 2011 : 23
90 pts
205
Thomas
SORDET
H&L
FRA
87
0
0
24
2011-03-14 > 2ème trophée Henri IV 2011 : 87
87 pts
228
Rémy
RECHE
AMM
FRA
80
0
0
25
2010-09-19 > Lugdunum 2010 Médiévale : 80
80 pts
190
Patrick
LEFEBVRE
ACLEB
FRA
79
0
0
26
2010-12-12 > Ballainvilliers 2010 : 79
79 pts
163
Xavier
MORLEC
-
FRA
73
0
0
27
2011-05-29 > Chaumont 2011 : 47
2010-11-20 > Augisey 2010 : 26
73 pts
251
Jean-françois
GILLES
Nimes
FRA
73
0
0
28
2011-03-14 > 2ème trophée Henri IV 2011 : 73
73 pts
152
Stéphane
BUFFAT
Augisey
FRA
72
0
0
29
2010-11-20 > Augisey 2010 : 52
2010-09-19 > Lugdunum 2010 Médiévale : 20
72 pts
166
Claude
PAPAGALLI
AMM
FRA
70
0
0
30
2010-09-19 > Lugdunum 2010 Médiévale : 32
2010-10-03 > Colombier 2010 : 28
2011-05-09 > LdT - Nancy 2011 : 10
70 pts
113
Pascal
PROST
Sénéchaux
FRA
68
0
0
31
2011-05-09 > LdT - Nancy 2011 : 33
2011-04-03 > Petites Guerres 2011 Antique : 19
2010-12-12 > Ballainvilliers 2010 : 16
68 pts
258
Adrien
BLAIN
IPO
FRA
67
0
0
32
2011-04-03 > Petites Guerres 2011 Antique : 47
2011-05-09 > LdT - Nancy 2011 : 20
67 pts
115
Michael
RONCHETTI
Achille
FRA
66
0
0
33
2011-05-09 > LdT - Nancy 2011 : 66
66 pts
202
Christophe
GOUNEAU
CSO
FRA
66
0
0
34
2011-04-03 > Petites Guerres 2011 Ages Sombres : 48
2011-03-14 > 2ème trophée Henri IV 2011 : 18
66 pts
240
Bertrand
MANGEZ
IPO
FRA
66
0
0
35
2010-12-12 > Ballainvilliers 2010 : 50
2011-04-03 > Petites Guerres 2011 Antique : 16
66 pts
267
François
SCHERRER
Grognards
FRA
66
0
0
36
2011-05-29 > Chaumont 2011 : 38
2011-05-09 > LdT - Nancy 2011 : 28
66 pts
107
Christophe
GOMMERY
Achille
FRA
64
0
0
37
2010-09-19 > Lugdunum 2010 Antique : 64
64 pts
128
Florian
BARDI
Rabastens
FRA
62
0
0
38
2011-03-14 > 2ème trophée Henri IV 2011 : 62
62 pts
239
Guillaume
SPIRHANZL
AMM
FRA
62
0
0
39
2010-09-19 > Lugdunum 2010 Antique : 32
2010-11-20 > Augisey 2010 : 30
62 pts
260
Jérôme
BAYON
IPO
FRA
60
0
0
40
2011-05-09 > LdT - Nancy 2011 : 39
2011-04-03 > Petites Guerres 2011 Antique : 21
60 pts
268
Jean-sebastien
LEFEVRE
AJHA
FRA
58
0
0
41
2011-05-29 > Chaumont 2011 : 58
58 pts
259
David
HELAINE
VdV
FRA
54
0
0
42
2011-04-03 > Petites Guerres 2011 Antique : 54
54 pts
233
Hervé
ANDRE
Front des Vosges
FRA
52
0
0
43
2011-05-29 > Chaumont 2011 : 20
2011-05-09 > LdT - Nancy 2011 : 17
2010-11-20 > Augisey 2010 : 15
52 pts
252
Bernard
CORET
Rabastens
FRA
52
0
0
44
2011-03-14 > 2ème trophée Henri IV 2011 : 52
52 pts
120
David
VALLAT
Achille
FRA
50
0
0
45
2010-09-19 > Lugdunum 2010 Antique : 50
50 pts
165
Marc
BARDET
Helvetica
SUI
50
0
0
46
2010-09-19 > Lugdunum 2010 Médiévale : 50
50 pts
101
Vincent
AUGER
F&S
FRA
48
0
0
47
2011-05-09 > LdT - Nancy 2011 : 48
48 pts
235
Francis
LEJARDS
Isolated Player 235
FRA
48
0
0
48
2011-04-03 > Petites Guerres 2011 Antique : 36
2010-12-12 > Ballainvilliers 2010 : 12
48 pts
264
Hervé
BRIARD
LdT
FRA
47
0
0
49
2011-05-09 > LdT - Nancy 2011 : 47
47 pts
232
Olivier
BLANCHOT
LDT
FRA
46
0
0
50
2011-05-29 > Chaumont 2011 : 25
2011-05-09 > LdT - Nancy 2011 : 21
46 pts
203
Jean
LEVRERO
H&L
FRA
43
0
0
51
2011-03-14 > 2ème trophée Henri IV 2011 : 43
43 pts
270
Yvan
GERUN
Grognards
FRA
41
0
0
52
2011-06-05 > Strasbourg 2011 : 41
41 pts
186
Olivier
FISCHER
Aigles Séquanes
FRA
38
0
0
53
2010-09-19 > Lugdunum 2010 Médiévale : 25
2010-11-20 > Augisey 2010 : 13
38 pts
262
Frédéric
MARTIN
BACL
FRA
38
0
0
54
2011-04-03 > Petites Guerres 2011 Ages Sombres : 38
38 pts
182
Philippe
MAGNAN
ORM
FRA
37
0
0
55
2010-10-03 > Colombier 2010 : 20
2010-11-20 > Augisey 2010 : 17
37 pts
200
Frédéric
DUFFAU
H&L
FRA
37
0
0
56
2011-03-14 > 2ème trophée Henri IV 2011 : 37
37 pts
237
Théo
BATTAGLIA
Comptois
FRA
36
0
0
57
2010-11-20 > Augisey 2010 : 20
2010-09-19 > Lugdunum 2010 Médiévale : 16
36 pts
187
Bertrand
JACQUEMART
ORLEANS
FRA
35
0
0
58
2010-12-12 > Ballainvilliers 2010 : 20
2011-04-03 > Petites Guerres 2011 Ages Sombres : 15
35 pts
215
Christian
BRICAULT
ACLEB
FRA
32
0
0
59
2011-04-03 > Petites Guerres 2011 Antique : 32
32 pts
266
Vincent
WINLING
Grognards
FRA
32
0
0
60
2011-06-05 > Strasbourg 2011 : 20
2011-05-09 > LdT - Nancy 2011 : 12
32 pts
119
Nicolas
STRATIGOS
Vae Victis
FRA
31
0
0
61
2011-04-03 > Petites Guerres 2011 Ages Sombres : 31
31 pts
253
David
PUJO
Isolated Player 253
FRA
31
0
0
62
2011-03-14 > 2ème trophée Henri IV 2011 : 31
31 pts
272
Laurent
BOUYER
Grognards
FRA
29
0
0
63
2011-06-05 > Strasbourg 2011 : 29
29 pts
254
Ostap
BENDER
STRAT&JEUX DU LAURAGAIS
FRA
26
0
0
64
2011-03-14 > 2ème trophée Henri IV 2011 : 26
26 pts
167
Didier
COQUET
AMM
FRA
25
0
0
65
2010-09-19 > Lugdunum 2010 Antique : 25
25 pts
121
Jean-françois
MENIER
IPO
FRA
24
0
0
66
2011-04-03 > Petites Guerres 2011 Antique : 24
24 pts
146
Hugo
TATE
Ordonnance
BEL
24
0
0
67
2011-04-03 > Petites Guerres 2011 Ages Sombres : 24
24 pts
176
Stéphane
BIWERSI
IHD
FRA
24
0
0
68
2010-10-03 > Colombier 2010 : 24
24 pts
255
Philippe
MONTOYA
Rabastens
FRA
22
0
0
69
2011-03-14 > 2ème trophée Henri IV 2011 : 22
22 pts
158
Damien
GIBERT
CTF
FRA
20
0
0
70
2010-09-19 > Lugdunum 2010 Antique : 20
20 pts
162
Hervé
COLLIN
Compagnie du Littoral
FRA
20
0
0
71
2011-04-03 > Petites Guerres 2011 Ages Sombres : 10
2011-06-05 > Strasbourg 2011 : 10
20 pts
175
Christophe
MOLIERE
Poitiers
FRA
19
0
0
72
2011-04-03 > Petites Guerres 2011 Ages Sombres : 19
19 pts
207
Pierre-louis
TREBUCQ
H&L
FRA
15
0
0
73
2011-03-14 > 2ème trophée Henri IV 2011 : 15
15 pts
181
Thomas
FASSLER
ZH
SUI
14
0
0
74
2010-10-03 > Colombier 2010 : 14
14 pts
242
Thierry
CHOPART
IPO
FRA
14
0
0
75
2011-04-03 > Petites Guerres 2011 Antique : 14
14 pts
199
Olivier
CLEMENT
H&L
FRA
13
0
0
76
2011-03-14 > 2ème trophée Henri IV 2011 : 13
13 pts
238
Patrick
LEPAGE
LdT
FRA
13
0
0
77
2010-09-19 > Lugdunum 2010 Antique : 13
13 pts
184
Frédéric
BECK
HE
FRA
12
0
0
78
2010-10-03 > Colombier 2010 : 12
12 pts
261
Lionel
MORVAN
BACL
FRA
12
0
0
79
2011-04-03 > Petites Guerres 2011 Ages Sombres : 12
12 pts
241
Sylvain
VARNIERE
CDL
FRA
11
0
0
80
2011-04-03 > Petites Guerres 2011 Antique : 11
11 pts
249
Yvan
GERMAIN
LdT
FRA
11
0
0
81
2010-11-20 > Augisey 2010 : 11
11 pts
256
Joan
MENDIBURU
CTR
FRA
11
0
0
82
2011-03-14 > 2ème trophée Henri IV 2011 : 11
11 pts
269
Alexandre
DOCREMONT
Aigles Séquanes
FRA
11
0
0
83
2011-05-29 > Chaumont 2011 : 11
11 pts
111
Thierry
MARSAL
Achille
FRA
10
0
0
84
2010-09-19 > Lugdunum 2010 Antique : 10
10 pts
114
Daniel
RESTELLI
Suisse
SUI
10
0
0
85
2010-10-03 > Colombier 2010 : 10
10 pts
164
Méddy
PERRIN
Helvetica
SUI
10
0
0
86
2010-09-19 > Lugdunum 2010 Médiévale : 10
10 pts
170
Alain
BUFFET
ACLEB
FRA
10
0
0
87
2010-12-12 > Ballainvilliers 2010 : 10
10 pts
208
Bruno
MASSON
BACL
FRA
10
0
0
88
2011-04-03 > Petites Guerres 2011 Antique : 10
10 pts
250
Olivier
PIEGLE
Front des Vosges
FRA
10
0
0
89
2010-11-20 > Augisey 2010 : 10
10 pts
257
Thierry
BAYLAC
Garde Varègue
FRA
9
0
0
90
2011-03-14 > 2ème trophée Henri IV 2011 : 9
9 pts
265
Bertrand
FAUVEL
-
FRA
9
0
0
91
2011-05-09 > LdT - Nancy 2011 : 9
9 pts
271
Patrick
HOST
Grognards
FRA
7
0
0
92
2011-06-05 > Strasbourg 2011 : 7
7 pts
Internationals championships per years: